Jasmine joined Bull City Family Medicine and Pediatrics in September 2019.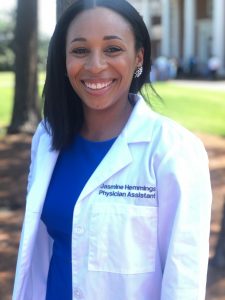 She is a native of New Jersey who completed her Bachelor of Arts in Exercise and Sports Science at the University of North Carolina Chapel Hill in 2009 and her Master of Science in Exercise Science and Health Promotion from the California University of Pennsylvania in 2014. Prior to working at Bull City Family Medicine and Pediatrics, she worked as an Athletic Trainer for 8 years at the University of Maryland, University of Maryland Orthopaedics, and Duke Orthopaedics. Jasmine completed her Master of Physician Assistant Practice at Campbell University in 2019 where she was inducted into Pi Alpha, the National Honor Society for Physician Assistants.
Jasmine is a nationally certified Physician Assistant by the National Commission on Certification of Physician Assistants. She is licensed to practice as a Physician Assistant in the state of North Carolina and is able to assess, diagnose, treat and prescribe medications as well as perform minor office procedure while under the supervision of a doctor. She enjoys caring for patients of all ages and has a special interest in sports medicine and preventative medicine.
Jasmine lives in Durham. She is active in church and enjoys cheering on the Tar Heels and Philadelphia Eagles, cooking, traveling, and spending time with friends and family.